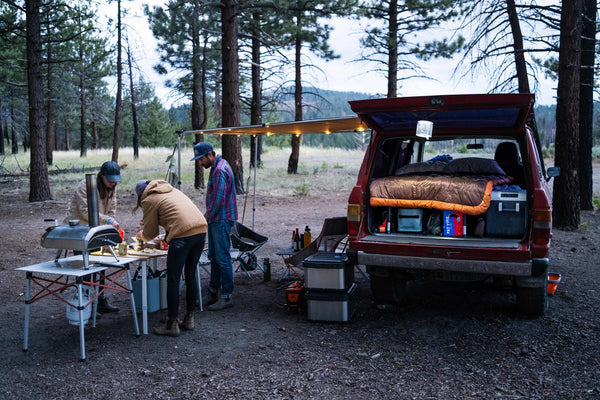 The Hideaway Sleeping Platform
Create a level, elevated surface with room for gear. Lightweight, modular, made in USA.
What's the best size Hideaway for your setup?
Hideaway Single – 30" wide
The top choice for solo missions and smaller vehicles
Hideaway Double – 40" wide
Perfect for couples and small/mid-size SUV's
Hideaway XL – 48" wide
The largest platform – ideal for big SUV's and pickups
The Hideaway Sleeping Platform
The fastest route from picket fences to open spaces and back again.
On your next camping trip, sleep in your car.
There's plenty of room in there. It's warm, dry, safe, and quiet – plus, no tent flapping in the wind. But when you pop the rear seats down, you realize they don't lie flat. And you need that floor space for your camp boxes, cooler, table and chairs. 
You need a platform. But not a permanent one. It needs to fit your vehicle. Height adjustable would be nice too. And how about making it packable for easy storage in your car or at home?
We had the same idea.

"Car camping just got elevated by Pacific Adventure Works. It has come up with a high-quality, lightweight, adjustable, and collapsible bed platform that will work in just about any vehicle."
Bryon Dorr, Editor
A bit about us
We are lifetime outdoor enthusiasts and have worked for a lot of the "big guys" in the outdoor gear industry. We know that the best products come from designers and engineers who actually use the products they develop. Our sleeping platform is no different. After its christening on a surf trip to Baja it's been tested, tweaked, and abused until we loved the end result.
We believe in not making sh*t. The world has too much of it already – cheap materials, planned obsolescence, and gear you can't repair. We refuse to be another junk product that you buy because you need some retail therapy. We make stuff that will work for a long time. Weekend after weekend, year after year.  We want you to get outside and enjoy time with your friends and family. 
Take a break from the day to day, shut off the phone, talk to one another, and be a human again.  It's easier than you think to get out there – you don't need a sparkly new van or truck to go camping. Just use what you have! You certainly may not need our sleeping platform either, but if you do see value in what we make then we welcome you to the Pacific Adventure Works fam.
We are our first customers and if it works for us, we trust it will work for you too.